Digital Marketing Tips
Every Adwords Search Campaign contains these elements
A Campaign
An Adgroup under the campaign
Keywords within that adgroup
Ads within that Adgroup
Each account is limited to 10,000 campaigns and 3 million keywords, 20,000 adgroups at 5,000 keywords per adgroup.
Basically for most companies you don't have to worry about adding in too many keywords.
These limits also have been increasing every few years so chances are you won't have to worry about them.
We are only looking at doing a search network campaign only. In general you never want to combine both Search Network along with Display. It is best to segment those campaigns out as you will be getting drastically different results.
For the Purpose of this guide you do have 5 options when creating a campaign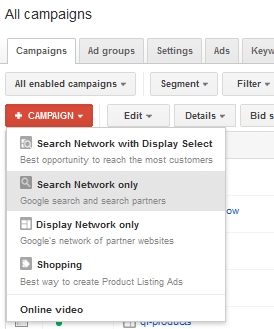 Search Network with display Select: Combines both search and Display
Search Network Only : Includes Google search and search partners
Display…
View original post 246 more words